Philosophy - Breeding Responsibly - Responsible Breeding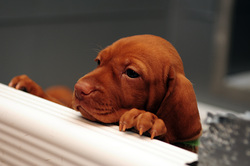 Breeding responsibly takes a tremendous amount time (way before a breeding even happens!), resources, knowledge, and energy. Breeding should never be taken lightly or done just because someone believes they have the sweetest, smartest, best dog ever. These are the careless breedings that often produce dogs that end up in shelters or rescue groups because no long term consideration was given to the end result of the breeding-- that the cute puppies would live 10+ years. Getting a dog is a major commitment and one that should not be made on a whim. Likewise, as a breeder selecting a home for one of their pups should be a very thoughtful decision involving an in-depth interview process and understanding that should the home no longer be able to keep the dog, it will be returned to the breeder.
Everything I learned
after
I bought my first Vizsla, Remus, is what inspired me to help others go about adding a Vizsla to their families
the right way
. Please see
Remus' page
for the full story but basically once I realized that I had not supported a responsible breeding program and
why
it's so important to, I wanted to do my part to educate others. Through education, I feel I will be able to help protect all of the wonderful things about this beautiful, unique breed. Those who are drawn to Vizslas are often attracted to their sweet temperaments, high energy, athletic beauty, and overall good health. Getting a Vizsla from a responsible breeder ensures our breed's long term health.
Just as my field training knowledge came (and is still coming!) from a variety of sources, so has my knowledge about breeding responsibly. The most influential, however, has been my breeder mentor and good friend, Judy Hetkowski of
Boulder Vizslas
. Judy has given endless amounts of time and patience as I've learned about researching pedigrees, structure (conformation) and how it impacts movement/overall health, the importance of proving Vizslas through titlesand how to build a strong breeding program with long term goals of bettering the breed.
Although I've been involved with the breed since 2000, I didn't co-breed my first litter until January 2008. One of my dreams is that someday, I'll breed my own Vizsla litter solo but know I still have much to learn and that I don't have the time to dedicate to whelping and raising a litter of pups the right way. The whelping of the "Sueppies" brought me one step closer to this dream as I welcomed a very special pup from that litter, BISS RBIS DC GCh Boulder's N Fusion's Power Trip MH CGC ROM into my home. Trip later went back to her breeders Judy and Edj to live full-time as a gift. They had suffered the loss of two of their beloved Vizslas within 6 months. Between her two homes, Trip was trained, hunted, tested, trialed, shown and proven to the highest levels. She's also been health tested regularly in preparation for each litter (she had 3 litters) and throughout her life.
The "Sueppies" also brought me the incredible experience of co-breeding a litter with Judy. As co-owners of Suede, 2010 BIR CH Boulder's Power of Persuasion CD RE MH VC ROM, Judy asked if I would like to be co-breeders on the Suede X Cappy (3X BISS CH Sunnyside's Harbor Master JH) litter. Honored, I readily said "Yes!" and dove in head first, learning all Judy had to teach about understanding pedigrees and conformation in order to chose the best stud dog. And everything else that goes into breeding responsibly. In the end, I was left with a much better understanding of all that should be involved when breeding responsibly. I'm still very green to this process but am eager to continue learning. Check out my "
Why Health Tests are Important
" and "
Understanding Pedigrees
" pages. These are the product of the knowledge Judy (and other responsible breeders) have shared with me.
Because of my deep commitment to helping others understand why they should get a Vizsla from a responsible breeder, I helped form the Rocky Mountain Vizsla Club back in 2003 with a group of other Vizsla enthusiasts. An incredible amount of work has gone into developing the Rocky Mountain Vizsla Club's message to "To enjoy our Vizslas, educate the interested, and promote responsible ownership." Please go to the RMVC's website to learn if the Vizsla is the right breed for you and how to find a responsible breeder,
www.rmvc.org
.
---