Philosophy - Training - Field Work -- Training Bird Dogs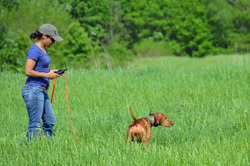 I grew from a "hobby" trainer to a professional trainer over these past many years. Most of my field training is done on the weekends, holidays, and vacations (yes, I take vacation time to train/compete with my dogs). I do lots of yard and obedience work at home during the week as well as when I'm out exercising the dogs on their off-leash runs and leashed walks around the city.
My philosophy on field training has matured over the years as I've gleaned pieces and parts from a variety of sources. Perhaps the most important part of my training philosophy is
not putting too much pressure on a dog when training
but understanding how much pressure to apply and when. While it requires a tremendous amount of patience, asking a dog to learn only that which s/he is mature enough to learn ensures long-term success. I've seen young Vizslas pushed too hard, too quickly who then shutdown and loose their enjoyment for field work. Yes, they "get the job done" but look so mechanical when doing it and show very little indepence to work without the direction of their handler. Most important is that my Vizslas always wear that huge smile on their faces as they zoom through the field hunting for birds. I hope they will always have that deep passion for working birds from when they're just baby birds dogs who can't make mistakes to when they're "broke" gun dogs who have learned how to hunt with manners.
I've also learned the importance of consistency not only when training, but in everyday life--everyday life
IS
training! Like it or not, you're training your pup in all of those "little moments". Too many dog guardians lose so many wonderful opportunities to train their dogs in the "wanted" behaviors. Instead, the annoying stuff is rewarded (unintentionally), frustrations sets in, and conflict enters the human-dog relationship. Dogs thrive when they
know
the rules and the rules are presented in a very
clear, calm, and consistent manner
. As we scratch our heads because of some training problem we're trying to solve, we just need to look in the mirror to see the conflicting messages we're giving our dogs. We might be verbally telling them one thing but our tone, body language or visualizations are saying something completely different. Or, our timing is way off when giving praise or a correction.
Another few kernels I've added to my bag of field training knowledge:
Never, ever train with anger or ego.
Learn to 'speak' dog. Understanding how dogs communicate will help you teach them! If the dog isn't succeeding, you've goofed up somewhere. Go back however many steps you need to help the dog understand what you want.
Always end training sessions on a positive note.
Only expect 100% from your dog when you are 100% at everything you do (ever miss a shot??). So, this would mean...never! This is actually Lin's and it rang so true when she said it I decided to keep it close. Humans unfairly expect our dogs to always learn what we're attempting to teach. Imagine if we were held to these same standards by them our by our human counterparts--our spouses, our children, our bosses, our friends. How exhausting life would be! Accept that your dogs will make mistakes as they learn--They aren't being stubborn or willful. Figure out how you've goofed up the message, then try again. Remember, you're dog wants to get it right.
For Puppies:
Lots of early bird contact is important for young pups BUT equally as important is your attitude when your pup is working. This stage is all about having FUN!! A pup can't really do anything wrong and should be encouraged/praised for his/her interest, drive, pointing. Focus on the good stuff your pup is doing!
Remember--they're just babies. We don't believe in putting too much pressure on them while they're young. Train frequently but keep training sessions short. Always try to end training on a positive note with the pup excited and wanting more. Do not try to steady them at this stage. Just let them chase and give enthusiastic praise for pointing and wanting to carry the bird. They'll steady themselves as they learn they can't catch. Your biggest goal is to minimize any catching without pointing. But, if your pup does grab a bird or two, it isn't the end of the world. Come up with a new plan or go back a few steps. In this tender stage, don't train so hard so as to diminish your pup's excitement about the bird.
Be very careful about introducing any gunshot sounds to bird work. This is a critical step in training and MUST be done with care. Most people move too quickly and are too eager to fire over their pup. There is NO RUSH when introducing the shotgun sound to your pup. A pup should have a solid and intense interest in birds BEFORE you ever consider introducing the shot (with a starter pistol) to a pup.
---